- Advertisement -

Inverted yield curve signals potential recessio.
Bitcoin's performance in a recessionary environment remains uncertain.
---
Yield Curve Inversion Triggers Recession Concerns
Financial market analysts, including those within the Bitcoin community, are currently observing the yield curve with unease as it hits another historic low in the United States. Charlie Bilello, chief market strategist at Creative Planning, shared the historic data via Twitter, stating that this is the most inverted yield curve in history.
Understanding the Implications of an Inverted Yield Curve
An inverted yield curve has predicted a recession throughout history. This occurs when shorter-maturity bond yields surpass longer-maturity bonds, indicating that the market anticipates an economic slowdown or recession with reduced interest rates.
Historic Relevance of Inverted Yield Curves
The inversion of the US 10-year and 3-month treasury bill yield curve has taken place only four times in the past century. The previous three instances were in 1980, 1973, and 1929, each of which led to significant stock market crashes and brought the US economy to its knees.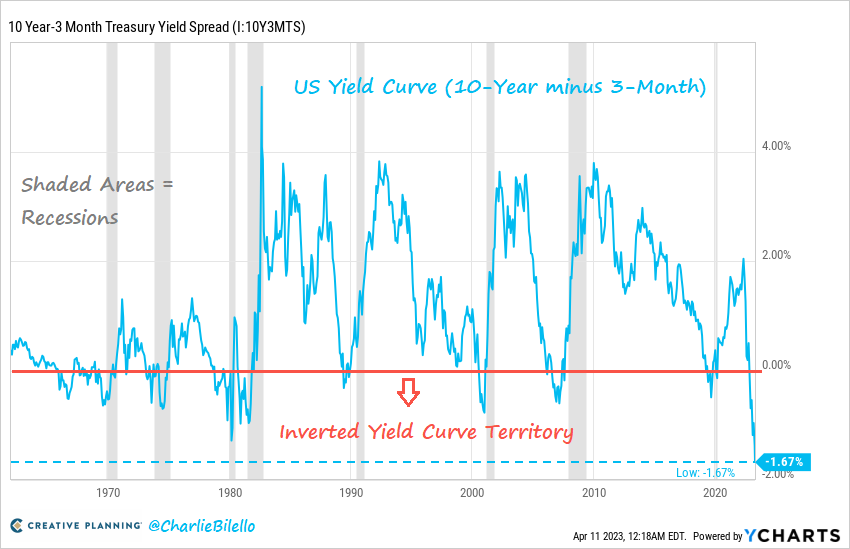 Predicting a Recession: Timing and Impact
Predicting when a recession will occur remains challenging, as the yield curve is still some distance from de-inversion. In the past, de-inversion signaled that an economic recession was just months away. Jurrien Timmer, director of global macro at Fidelity, warned of the potential impact on traditional financial markets, with drawdowns ranging from -11% to -51% in the months that followed.
How Will Bitcoin React to a Recession?
Bitcoin's current rising price is driven by hopes of an imminent pivot, but a recession is lurking in the shadows. It would be the first time Bitcoin has encountered a recessionary environment, and it is uncertain how the BTC price will react – whether it will decouple or follow the stock market.
Experts Weigh In on Bitcoin's Potential Behavior
Lyn Alden, founder of Lyn Alden Investment Strategy, believes that the financial market is overfunded. Therefore, it comes down to whether assets produce cash flow at reasonable valuations, and when. Michaël van de Poppe, founder of Eight Global, thinks a recession could push Bitcoin into another sharp downturn. However, he predicts a rally towards $45,000 per Bitcoin before that.
Every yield curve "situation" has a series of people explaining why the yield curve doesn't matter this time, or arguing over which specific yield curve to care about.

See thread and charts below.

— Lyn Alden (@LynAldenContact) March 22, 2022
A Volatile Market Ahead
At press time, the Bitcoin price was hovering around $30,000. With today's release of the CPI for March and the FOMC minutes, the market is poised for a volatile Wednesday.